Facebook and Lauriati friend Sue Poremba inspired me to think about books from my youth that shaped who I am — books that I read up through high school.  I came up with a list of ten, and darn it, I'm proud enough of those books to post them!  You'll find a mix of historical-based stories and pure fiction, as well as some non-fiction.  I did spend a LOT of time reading when I was growing up, and given enough time, I probably could make a list a mile long.  Whether you read my blog because you're into weather or because you're into Laura, I'd encourage you to read, to encourage your children to read, and to re-read books from your youth!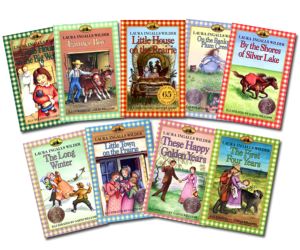 1. The Little House book series (Laura Ingalls Wilder). I would have said this even before I researched them and crossed over into the scholar/ultra-fan world. I re-read them time and again growing up and, like many of my fellow Lauriati, took many of Laura's life lessons to heart.  The classic stories of family, growth, perseverance, and resourcefulness are timeless, and their setting on a backdrop of the wild and rugged Plains just makes me glad that I live here now.
2. Gone with the Wind (Margaret Mitchell). Growing up, I asked my mom to giv
e me books that had a happy ending, which GWTW certainly does not!  This was, however, the first real adult-themed book that I read (I picked it up in 8th grade off one of those old book order sheets that we used to get). The book taught me much about making mistakes, seeing people around me (how could Scarlett not see how much Rhett loved her?!), appreciating what I have, and understanding the foundations of racism from a much different perspective than my upbringing in Yankee territory.
3. The Grapes of Wrath (John Steinbeck). Steinbeck swept me away to a place and time that was so, so much harder than anything I could imagine.  His literary tools, interspersing the Joad family story with more broad descriptions of the Okies in the Dust Bowl era, really resonated with me. The book taught me about seeing people instead of their situations. It also introduced me to the human side of the Dust Bowl.
4. Those dozen or so tornado and hurricane books in the Plymouth (MI) library in the mid-1980s. I couldn't name them specifically, though I can see the pictures in those books in my head, but I must have checked them out of the library a hundred times between 1st and 4th grades. Obviously, they made a huge impression on who I became!
5. Islan
d of the Blue Dolphins (Scott O'Dell). Something about Karana, a native Nicoleño Indian marooned on San Nicolas Island (off the California Coast) learning how to not only stay alive but also tame wild beasts and also find time for beauty, made me feel her strength and elegance.  Plus, I'm a sucker for stories based in truth, though what happened to her after she was rescued definitely did not make for a happy ending.
6. My Side of the Mountain (Jean Craighead George). Kind of the same t
hemes in this story, but with a little boy in the New York woods instead of a girl in the Pacific islands. Everything from the cool survival tools to the relationship with the animals (especially his peregrine falcon) struck me.  Unlike the book above, this work is fictional, but its setting was more familiar to me… familiar enough that I could replicate trying to fit into the hollow of a tree or live off the land.
7. Whatever biography of Christa McAuliffe I read for a high school biography report. I was inspired by her story to be a teacher, or astronaut, or teacher-astronaut.  This led me to get most of the way through the teacher education program in college before landing on meteorology without the teaching component.

8. Anne Frank: The Diary of a Young Girl (Anne Frank). Her optimism in the midst of all the terror around her was uplifting. I was so sad to learn that she died in a Holocaust camp after her diary ended.  The union of history and literature rears its head again.
9. Our old Audubon bird book. I'd pull that thing out every time a saw a new bird and learn all about it. I think I had it memorized for a while, and I still remember distinctly my 4th grade science project on waterfowl in Michigan. It helped me learn to tune to nature, which is something I should go back to doing, especially since the birds in Nebraska aren't the same as the ones in Michigan.
10. The Ramona books (Beverly Cleary). Seriously, wasn't there a little Ramona Quimby in all little girls – especially those of us who are little sisters?
Runners up:  Trumpet of the Swan (E.B. White), The Endless Steppe (Esther Hautzig, written from her life experiences), Judy Blume books (especially Blubber, a great anti-bullying story), The Cay (Theodore Taylor), Bridge to Terabithia (Katherine Paterson), Hamlet (William Shakespeare)